Soft Skills - Career and Life Skills AI can't replace.
OR automate. OR replicate. OR imitate.
It's a hard fact.
Artificial Intelligence technologies are rapidly redefining today's workplace and are advancing at an unprecedented rate. Over 80 million current American jobs are projected to be lost to AI within the next five years. The good news is you can ensure that your students will have a rewarding career tomorrow if you equip them with the skills that AI can't replace today! Now more than ever, in this age of technology and automation, employers around the world demand more from their employees than the standard paper degree. They demand that their new hires possess the essential real people skills that machines cannot and will not ever be able to replace.
They demand Soft skills.
Soft Skills AHA is dedicated to bridging the gap between what is being taught in the classroom and what industry requires in the workplace. We are the real people skills experts and have been for over 35 years. Our comprehensive, engaging and interactive programs cover the educational spectrum from Soft Skills Middle to Soft Skills High, to Soft Skills PRO.
No Matter what you call them.
Soft Skills, 21st Century Skills, Employability Traits, Transitional Skills, Professional Skills, Essential Skills or Interpersonal Skills.
Employers demand them. Students need them. AI can't replace them.
And we teach them better than anyone!
Inspiring Self-awareness and Career Exploration.
Designed for Grades 6, 7, & 8.
Bridging the Gap between Classroom  and Career.
Designed for Grades 9, 10, 11 & 12.
Empowering Personal and Professional Development. 
Designed for Higher Education students, young adults, new recruits, teachers and the workforce.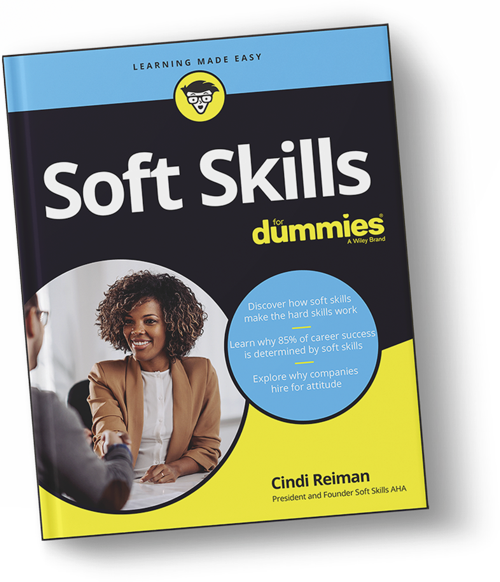 Yes, We teach Soft Skills.
"Soft Skills for Dummies" is a comprehensive guide to understanding and improving the interpersonal skills that are essential for success in both personal and professional settings. Written by Cindi Reiman, the founder and president of Soft Skills AHA, this book offers practical tips and strategies for communicating effectively, building strong relationships, and managing conflict.
Reiman's expertise in the field is evident throughout the book, as she draws on her years of experience helping individuals and organizations develop their soft skills. Whether you are a student, job seeker, or seasoned professional, "Soft Skills for Dummies" is an invaluable resource for enhancing your social and emotional intelligence.
Read the book or better still sign up for a course today!
Voices of Industry
Isn't it time to listen?
The Soft Skills "Debate" is over

Why Human-Centric Abilities Remain Vital
AI's Rise Calls for Strong Soft Skills
Soft skills refer to interpersonal skills or a set of personal qualities and attributes that enable individuals to effectively communicate, adapt, collaborate, and interact with others in various settings. These skills in today's AI dominated era are increasingly valued by employers and are considered essential for success in the workplace. Despite the growing recognition of the importance of soft skills, many education institutions have been quite slow to integrate them into their curricula.
Soft Skills AHA was created by the American Hospitality Academy (AHA). Since 1986, the American Hospitality Academy, in partnership with premier resorts and hotels throughout the USA, has been the bridge between colleges and industry, providing career-focused curriculum and structured training plans for thousands of students and young adults. It is through our close working relationship with top industry leaders that AHA has developed an appreciation and clear understanding of how to best teach the 21st Century soft skills that are vital to success in any career.
In 2005, in partnership with the American Hotel and Lodging Association, AHA created the first college internship manual SERVLEAD – Service Leadership in a multicultural workplace. Our SERVLEAD manual provided professional development and leadership course work, training competencies, and an industry certification to students who successfully completed our program.
In 2009 AHA was licensed as a non public postsecondary institution by the South Carolina Commission on Higher Education. Our professional development programs are designed to meet the focus of companies around the world who "hire for attitude and train for aptitude." Our engaging career readiness curriculum and positive online learning environment emphasizes the essential employability traits needed to be successful both in the workplace and in life. AHA is now bringing our 30+ years of successful workplace internship preparation on the college level to Soft Skills AHA in order to help prepare students for workplace success. 
Subscribe Now!
Subscribe to the School's Newsletter!
Want to get all our latest news, events and promotions?
Language App
Download a Free Mobile App!
Some description text for this item
Download App For Free

How to learn languages for free? This collection features lessons in 48 languages.

Start an Education

It's easy to start learning a new language with the help
of our free mobile app. Start it Now!